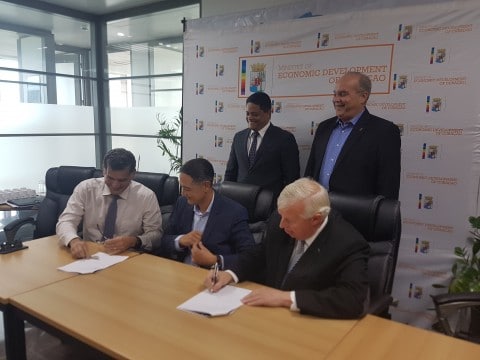 The Cargo Group for the Foundation of Logistics (Stichting Ontwikkeling Projecten Logistieke Sector – SLS) has contracted MTBS with her consortium partners for the preparation of a Cargo Study in Curacao.
The study will focus on two main questions:
1. How to preserve the current cargo flows via air and sea in Curacao and how to improve facilitation of these flows.
2. How to attract new cargo flows via air and sea to Curacao.
The contract was signed on 14 February 2017 at the Ministry of Economic Development on Curacao and attracted much attention from local stakeholders and press.
The contract was signed by the Chairman of SLS, Mr. Vernon Huerta, the Secretary of SLS, Mr. Humberto de Castro and Dr. Patrick Uyttendaele of MTBS under the watchful eye of the Minister of Economic Development, Mr. Eugene Rhuggenaath, and the President of the Chamber of Commerce, Mr. Willem Jonckheer.